Nova relies on state-of-the-art technology when it comes to assembling your boards. We have three fully equipped production lines as well as a dedicated prototype line. With surface mount and mixed technology PCB assembly, we have the capability to assemble over 28,000 component placements per hour. With the use of Automated SMT Optical Inspection, we can assure that our products are of the utmost quality and precision so your standard will always be met.
We have four JUKI  and Samsung machines that provide surface mount technology (SMT) capabilities—and speed. These allow for:
Extreme precision
Touch-free capabilities
Multi-head vision
Laser-centering
Capacity to place 28,000 components an hour
HELLER 14-ZONE CONVECTION
This re-flow oven has a mesh belt conveyor and board edge support conveyor for double-sided SMT boards.
Supports high mix/ medium volume throughput

24 inches/minute

Efficient heat transfer

Wide process window

Capacity to store up to 500 temperature recipes & 500 profile graphs

This machine includes high-speed Z-axis motion, allowing for faster processing and reduced soldering time.
Extensive mixed technology capability

Laminar flow

RoHS and lead wave soldering

Camera Centering System

Point-to-point selective soldering

Featuring four 18 Mega Pixel Side-View Cameras as well as a 15 Mega Pixel CoaXPress Top-Down Camera, this machine allows for high-quality 3D AOI. 
Automated SMT Optical Inspection (AOI) of part numbers

Verifies soldering and polarity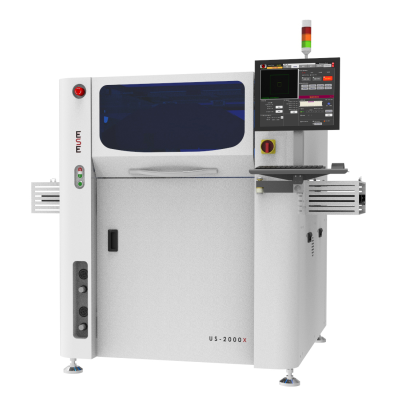 STENCIL PRINTING
MPM Accuflex
Juki GKG K2
My600 Jet Printer
ESE US2000X
Placement
Juki 3020
Juki 760
Samsung 482 flexible Pick and Place with STF100S Matrix Tray changer
Heller 14-zone reflow ovens
Metal Scorpion BGA rework station
Inline inspection stations Laser etch machine
REFLOW OVENS

2  Heller 1707 reflow ovens
7 top zones, 7 bottom zones
Heller 1809 MK 5 Reflow Oven
9 top zones, 9 bottom zones
SUPER MOLE GOLD THERMAL PROFILER

6 Thermocouple inputs
Ovenrider® to verify reflow oven temperature accuracy
MIRTEC MV3 OMNI DESKTOP AOI

15 Mega Pixel camera technology
10 Mega Pixel side view camera technology
10 micron/pixel precision
Full 3D co-planarity and solder fillet inspection
SELECTIVE SOLDER CAPABILITY

ERSA Versaflow  335 Global edition
Auto fluxer
Dual magnetic pump
Top and bottom preheater
Excellent process control
Best for high volume jobs
ERSA Smartflow 2020
Auto fluxer
Single magnetic pump
Top and bottom preheat
Excellent process control
Best for small volume jobs
BOARD BAKING OVEN

TPS Blue M LO-136 P Laboratory Oven
Multi-step Profiling Temperature Controller
Oven for board baking. All boards that go through the reflow ovens get baked first.
BOARD WASHING CAPABILITY

Austin America Aqua-Therm 9200, 1-Aqueous Technologies AQ400
Aqua-Therm 9200 – Open loop wash, Chem wash, De-I water
Aqua-Therm 9200 – water/chemistry capable with 12 programmable recipes
INSPECTION CAPABILITY

Tagarno FHD Trend
Tagarno HD Uno
Mantis Elite
X-RAY CAPABILITY

XJ Electronics X-Quick Vi3
Allows X-ray inspection for bottom terminated components such as QFN, LGA, and BGA. Manual inspection for opens, shorts and alignment not visible with optical inspection
Count parts for accurate inventory control with image pixel technology
SOFTWARE CAPABILITY

Misys for Manufacturing ERP software
Viewmate Pro
Labelmark 6 Pro
MoleMap
SmartSM
Juki IS Intelligent Shop floor solutions
AOI MV-7 offline teach tool software
AOI Remote Repair Software
T-OLP software for offline programming and optimization
ADD: ERSA CAD Assistant 3
REWORK CAPABILITY

Metcal Scorpion Advanced Rework System
Pre-heater inner zone, outer zone reflow head
Closed loop, temperature control
Top & bottom heaters
Top & side view high-resolution cameras